INVESTORS
Corporate Profile
Xtant Medical Holdings, Inc. (NYSE MKT: XTNT) develops, manufactures and markets regenerative medicine products and medical devices for domestic and international markets. Xtant products serve the specialized needs of orthopedic and neurological surgeons, including orthobiologics for the promotion of bone healing, implants and instrumentation for the treatment of spinal disease, tissue grafts for the treatment of orthopedic disorders, and biologics to promote healing following cranial, and foot and ankle surgeries.
Stock Quote
(Common Stock)

Price

Change

(%)

Volume

Data as of



Data Provided by Refinitiv. Minimum 15 minutes delayed.
Stock Chart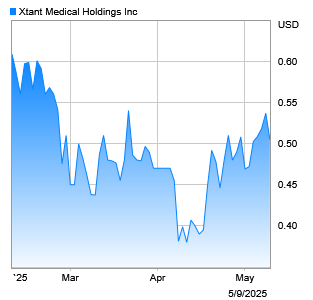 Recent News
Upcoming Events
There are currently no events scheduled.
Receive Email Alerts
Sign up to receive email alerts whenever Xtant Medical Holdings Inc posts new information to the site. Just enter your email address and click Submit.